How do you make something already the best at what it does even better?  That is a tall order to fill for any company.  TiVo has done just that in their new TiVo Premiere, which I have been testing.
TiVo Premiere integrates your cable TV, Web, movies, music and more in ONE box that replaces your cable box! TiVo Premiere is not just a DVR.  It's a cable-, web-, movie- and music box—all wrapped into one, easy-to use device. It replaces your cable box & connects to your Internet service to instantly access cable TV, HD movies & TV shows from Netflix, Amazon Video on Demand, Blockbuster, YouTube and more.


Available in two flavors, $299 for the basic model capable of recording 45 hours of High Def TV and the $499 model, designated Premiere XL, capable of recording up to a whopping 150 hours of High Def goodness along with a backlit TiVo remote and THX certification for superior sound and picture capability.
What's hot?
• 45 hours or 150 hours of High Def recording capacity
• Connects wired or wirelessly to your Internet service to take advantage of content sent over the Web
• Speedy performance within menus from faster processor
• Energy Star compliant for low energy consumption compared with other TiVo models
• Sleek appearance, clean, uncluttered look
• Traditionally high reliability, very high customer satisfaction
• New user interface not on other TiVo models (at least not yet)
• Simple, fun to use
• Best remote
• Two tuners can record two shows at once while consumer watches already-recorded program at the same time
• With multiple TiVo DVRs in one home all connected to the same wired or wireless network, programs on one TiVo can be transferred and watched on another
• Program TiVo remotely over the Internet from any computer or iPhone
• TiVo (the company) updates software and adds features seamlessly
• Works with user's Amazon Video On Demand account, Netflix (for streaming movie, TV show choices, Rhapsody, soon Pandora, podcasts, user's iTunes and other music on networked computers and MUCH more
• Recorded shows can be transferred over home network to computes, Macs and Windows PCs, for take-along on laptops and transfer to iPod, iPhone and iPad (not all recorded programs – not up to TiVo – If the station/network throws what is called a "flag" it designates that program as uncopyable – again, not the fault of TiVo. Workaround is sometimes to record same program on non-high def channel to see if that one is also flagged.
• Works with your cable company and Verizon FiOS TV service, but you have to ask them to supply cable card as they rarely even mention their availability on their Website.  Cable companies MUST, by law, offer cable cards to their subscribers
What's not so hot? (Not very much!)
• Use of cable cards (a must) does not allow VOD (Video on Demand) from cable company, somewhat mitigated by other VOD services accessible via TiVo, though these are paid services.  Cable card technology dictates they are one-way devices, so that is the bottleneck, NOT TiVo itself.
• Will not work with satellite services, BUT, it was officially announced that TiVo would once again be hooked up with DirecTV as they were until several years ago (just after the company was purchased by Rupert Murdoch), possibly later in 2010.  Sort of bad news coupled with hopeful news!
• Will not work with AT&T U-verse – too bad for their subscribers
• High initial outlay, but do the math to see that, in time, you may be money ahead with TiVo over your cable company's non-TiVo DVR
For anyone who uses a TiVo currently, I am preaching to the choir, for we TiVo fanciers are a loyal lot, rabid fans of what we know by experience to be something we would NEVER part with willingly.  For you, I say keep reading because you just might want to upgrade, and TiVo has a path for you that saves you money.  For the rest of you, there is much to crow about, letting you know what's so hot and why TiVo in the first place. What's the big deal?
Many consumers already use TiVo as a verb – "I'm TiVoing American Idol," when, what is really being said is that, "I'm recordinAmerican Idol on my DVR" (that is NOT a TiVo device) as supplied by my TV signal provider.  BIG difference.
TiVo is a noun, a thing, a device.  More importantly, it's the name of a company behind it all.  I've had a TiVo DVR almost since day one, their first model, a couple of which we still own and that still operate well, if a bit more slowly and only recording analog programming, but that's another story.  I'm here to answer the question, "Why TiVo?" and to tell you about this really cool new one.
First, the why.  It's all about the user experience.  Mac users know this, feel this already.  TiVo, in this way, is similar.  Sure, other devices can record TV programs. There are many other DVRs, but there is only ONE TiVo.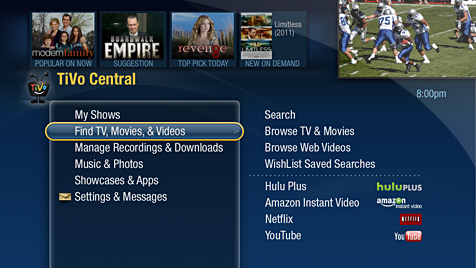 The new user interface is clean and intuitive, allowing for easy and fun, productive browsing for info about any show, every show, from every source, all neatly organized for your pleasure.
Get what you want, where you want with fewer clicks, all in high def and using the latest technology that will allow further enhancements and features better than ever before.  Translation – you're going to love this TiVo more, with each passing month and year as new features, new applications become available.  You'll never find tomorrow that your TiVo has become a stranger nor will it soon become obsolete!
The remote, dubbed the "peanut remote" due to its shape, is THE best remote control of its kind ever created.  Little has changed to improve it in the past few years because it really is perfection. It can be easily operated with one hand, it fits the hand perfectly comfortably, and in hand, the most often used buttons are readily accessible by thumb that your brain easily learns as far as their placement.  And TiVo (the company) listened to its users with this new Premiere by including, in their words, "an on-screen disk space meter that shows how much room is left to record, a built in 30 second scan, and a new video window that lets you watch your favorite show while navigating the TiVo menus."
I've read that there may be a new remote on the horizon, one with a QWERTY keyboard.  I have not seen it, but if TiVo could keep ALL we love with the peanut and add their magic to a QWERTY keyboard, all in one remote, I'll be a fan.  I would hope they'd find a way to make it a standard piece of equipment, a running change resulting in a slight cost increase of the TiVo DVR as well as an accessory available to others with eligible hardware.  With so much capability on the Web, we really need and want such a new remote.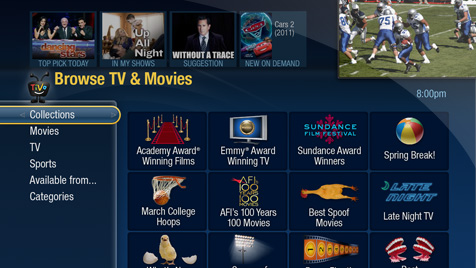 You can learn and read more about TiVo basics here.  The big takeaway is that using TiVo is fun, not frustrating.  TiVo usually is less expensive, yes, less expensive over time than renting your cable company's cable box with their DVR inside.
I'll also let you read directly from TiVo specifics about watching movies and TV shows using your Netflix account, movies from Blockbuster and Amazon Video on Demand. I'll let you read there about all the features so you will see what's the big deal.
You BUY your TiVo outright at either of the two levels listed above and that's that.  You own it. Then, you pay TiVo either monthly (not the smartest in my view) OR you buy their lifetime programming guide for that unit for $399 and be done with it.  During that time, you get to enjoy using the TiVo programming guide and all the other TiVo capabilities.  In other subscription models with different TiVo plans, monthly costs can be relatively close to but less than what you would pay to rent an inferior DVR from your cable company.  Research service fees here.
TiVo Premiere and ALL TiVo DVRs with rare exception, replace your cable box. No more rental fees to your cable company. If you move, take your TiVo with you.  How does it connect?  Instead of connecting your cable "wire" to the back of the cable company's hardware, you connect it to your TiVo DVR. It screws in the same way.   And TiVo also includes an antenna connector for those of you who have an antenna to receive digital local channels only using an antenna.  Inside is also a digital over-the-air TV tuner!
Next, your cable company will come to install a small card, a cable card, actually what is called an "M" card, in the back of your TiVo Premiere.  This is how your cable company speaks to your TiVo to provide the various channels to which you subscribe.  The guide comes from TiVo while the actual TV stations, the programs you watch and record come from your cable provider.  There will be a monthly charge from the cable company for the card, generally from about $3 to $5 dollars.  And I believe you're STILL money ahead in the long run with TiVo.
Not only does TiVo Premiere replace your cable box bringing you the TV channels to which you subscribe, it also is your portal to the Web for many services and information. TiVo also connects to your Internet service, either wirelessly to your router or wired using Ethernet.  I use both methods here at Gadget Central.  Wired is best and can be fastest if using gigabit Ethernet capability, but this is off onto another topic.  Keep that term, gigabit Ethernet, in mind to research or ask someone if you do not know such things, or for your Internet provider if that is your only available way to get more info.
Via the Internet, TiVo Premiere permits direct access to YouTube, local weather and traffic, movie previews, local movies playing, theater listings and show times as well as, if the theater supports it, advance ticket purchase through participating movie theaters and, as I keep mentioning, so much more.
Now, once your TiVo is in place and set up, your programming guide comes from TiVo and not from your cable company.  Generally, it's 14 days worth of info in that famous, easy-to-navigate interface.
If a program runs long and if TiVo knows it, the recording time is automatically adjusted, as it was this week for the finale of American Idol. The show went long by seven minutes and TiVo got it all.  In addition, when there is a live program and the user sets it to be recorded by TiVo, the interface asks, since it is a live program, would YOU like to extend recording time, from a few minutes to an hour or more.  This is just one of the little things that TiVo users come to love and to take for granted.  And if a program you've set to record, perhaps with a season pass, is changed from one time, day or even channel to another, and so long as you receive that other channel, TiVo will still record it.  TiVo knows!  I like that.
TiVo connects to your high def TV, ideally, using a standard and supplied HDMI cable carrying both video and audio.  If you've followed the links above, you already know this.
In just a few words, using this new TiVo Premiere has been a seamless experience.  We like the new interface, which, if you did not know the old one, means squat to you.  It's clean and neat.  We do notice snappier response when navigating through menus and when the unit responds to normal commands.  There's just less lag time, not that our more recent older Series 3 high def TiVo DVRs are slow by any means.  We LOVE the new look on-screen and the new features as indicated above.
We never thought of our TiVo DVRs as being energy hogs, so the fact that these new ones use even less electricity and quality for Energy Star recognition can be only a good thing.
TiVo DVRs are NOT perfection personified, and they all lack features found with other DVRs that some consumers want, such as even more tuners, the ability to play from one DVR directly onto TVs in other rooms. And there are other products that have some of the same features built into TiVo Premiere, such as Internet connectivity that brings Netflix and Amazon on Demand videos, music options and other things, and for less money.
But today, TiVo has that instantly pleasing easy to use all in one device not quite like anything else, and that is its strength.  It's getting customers to sign up that is sometimes the toughest battle, but once in their hands, it's usually for keeps, unless the just don't care.  We've all know such folks – we get excited about some wonderful (to us) discovery, enthusiastically share it with family and friends and the . . . nothing.  It's as if they don't get it, and they don't. Such is life, and that's just the way it is, even with TiVo.
And what about 45 hours versus 150 hours of high def recording?  Both are capable of more when factoring in that some programs, perhaps many favorites, are not in high definition.  That 150-hour model can record even more hours of standard definition programming, up to an amazing 1350 hours!  So, in combination, and because not everything is in high definition, that's a boatload of recording capability, which I really love.
Let's say that each member of a two-person household in which TV is an important activity has some similar TV programming likes as well as some differences.  And let's say one or both also travel for their work quite a bit, an extreme situation to illustrate a point.  With this amount of recording time available, whole seasons of multiple favorite programs may be recorded, plus premium channel movies and then viewed at the couple's leisure in the weeks and months ahead.  Such seemingly extreme recording capacities promote the feeling that that one need have little concern that space will run short on a DVR. And each TiVo Premiere has an external port that will accept an additional hard drive to be connected for even more storage!
Finally, in my own experience over about 13 years, since its founding in 1997, TiVo has been a part of our home and very much a part of what I love about being The One and Only Mr. Gadget®. TiVo has been one of my absolute favorite products and technologies, a favorite to recommend.  I get such pleasure learning from my audience that my advice was taken, TiVo purchased and lives changed for the better, even if only because they find the experience with TiVo so pleasing. I have never received a complaint about a TiVo product. That is not to say they are always perfect.  Like any consumer electronics device, they do sometime break down, but this is usually an age-related hard drive failure.  I rely on www.weaknees.com as my go-to guys for TiVo repairs (authorized by TiVo) and upgrades and for beyond warranty repairs.  However, only once has a drive failed in one of our many TiVo DVRs (and after many years in service, at that), so odds are great that your experience will be likewise – excellent.  They're making them better and better all the time.
But is this TiVo Premiere, either standard or XL worth the price?  The answer has to do with your take on the term value.  If you value the features and conveniences, the ease of use, fun factor, and find value in the interface, without having a coronary at the initial money outlay, YES.  If you're the kind of person who only cares about and buys something based on price, while the benefits escape you, you're probably not looking at TiVo as a prospective customer.  I do remind, however, that few other products over the years have met with such positive comments and expressions of devotion as have TiVo DVRs, and that has to account for something!  I would just not want you to miss out on something as great as TiVo, if at all possible.  And with their 30-day money back guarantee, there has never been a better time to give TiVo a try!
More information is, of course, at www.tivo.com or call 1-877-BUY-TIVO (1-877-289-8486). TiVo is available at retailers including Best Buy (really, what can't you get there?), and, elsewhere by searching for other retailers online, including our friends at www.weaknees.com.
TiVo is truly a gift that keeps on giving, so look into it, won't you?  If you've waited to take my advice to get something really great, this is the time to go for it!