If you live in an apartment or for any reason can't have an outdoor grill (or even if you can), Stephen's Stovetop BBQ Grill, $120, is an indoor BBQ alternative you'll want to know about.
Though I'm fortunate to have a back yard and a Char-Broil Infrared outdoor grill that I love, when it's humid and nearly 100º outdoors, I can still grill outdoor-style on a gas stove burner in the kitchen. No sweating! Raining? No sweat! No other reason? It's still worth a look and, for many, a terrific product. For many I know and more that I do not, Stephen's 11-inch Stovetop BBQ Grill is the ONLY way they can participate in this delicious cooking method.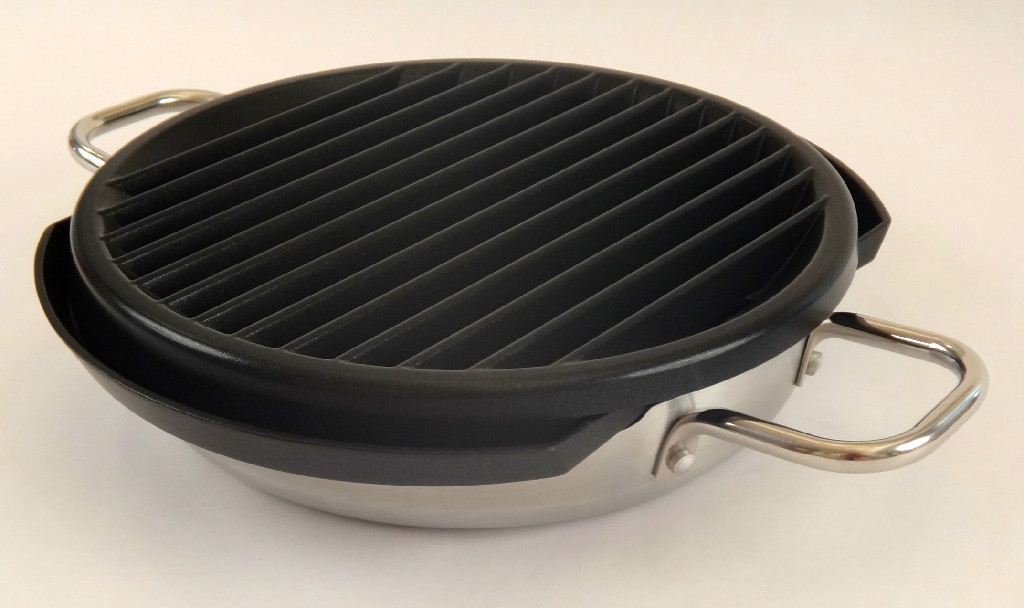 Kidding aside, in any weather, users can enjoy Stephen's Stovetop BBQ Grill to produce delicious as if outdoor grilled meals with ease.
While there are numerous choices of excellent stovetop grill pans available, all have one thing in common – a stovetop mess and they're not really barbecues you get when cooking on outdoor stoves. Perhaps, as I, you've made excellent steaks, chops, burgers and fish on your stovetop in a pan.  Grilled onion slabs, veggies and so much more. I know I have.  But there is also an unavoidable mess. This alternative produces virtually no mess at all on the stovetop.  Remember, it must be a gas stovetop as the BBQ relies on the flames coming up from below it, not just the heat.  Sorry, electric range uses.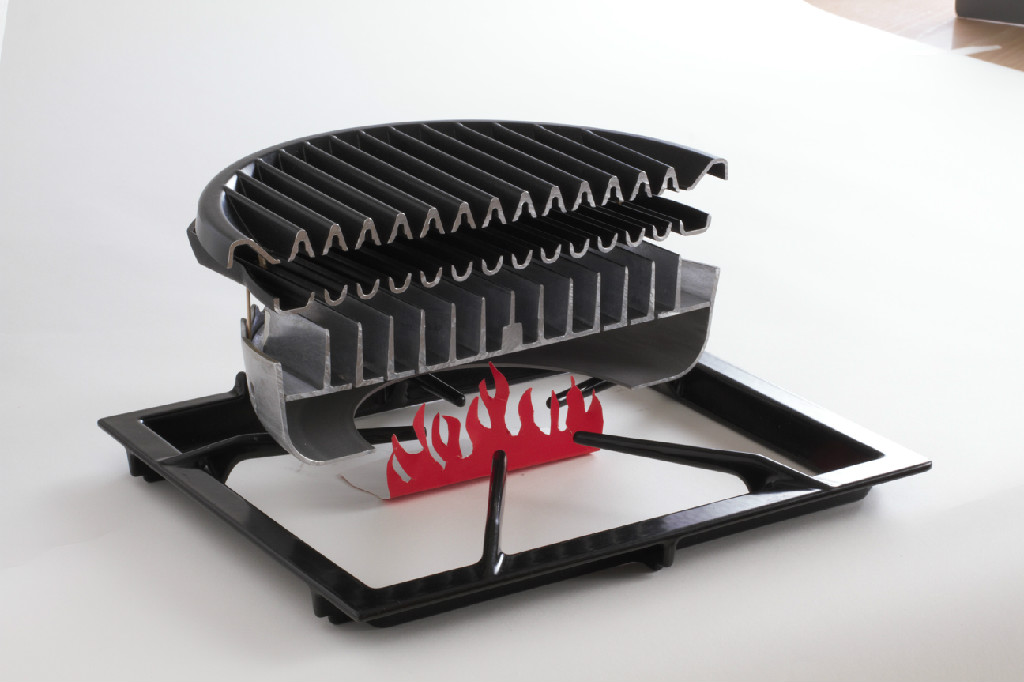 Heat from the gas burner flames rises through the core, heating the grates as if an outdoor grill. Using an outdoor grill, released juices drip onto coals or gas burners to create smoke and flare-ups that flavor the food above. Unlike an outdoor grill, drippings and juices from using this product drain through specially designed channels and are collected through the top and middle pieces in the skillfully engineered bottom piece. With its outer ring created at just the right internal angle, released juices are captured and remain inside so as not to contact the flame and produce a fire or flare-ups. Make no mistake, this is grilling, but without the smokiness.
It is important to note that the drippings catcher must not be allowed to become over full or it is in jeopardy of letting loose the juices into the flame and onto the burner below. Don't worry about this.  Just be aware and, through use, you'll learn how much is retained. Also note that it is best, in my view, to BBQ foods that are likely to drip less than more. For example, I'd trim a juicy steak's fat border if needed.
Is there a flavor loss with this BBQ method as compared to the traditional outdoor method? Just a bit, BUT, not much and the tradeoffs more than make the case for Stephen's invention's usefulness.  The results are wholly satisfying!
It is important to marinate or season foods first, then BBQ. Avoid brushing on sauces and other liquids during grilling to lessen what is likely to fall below into the "catcher."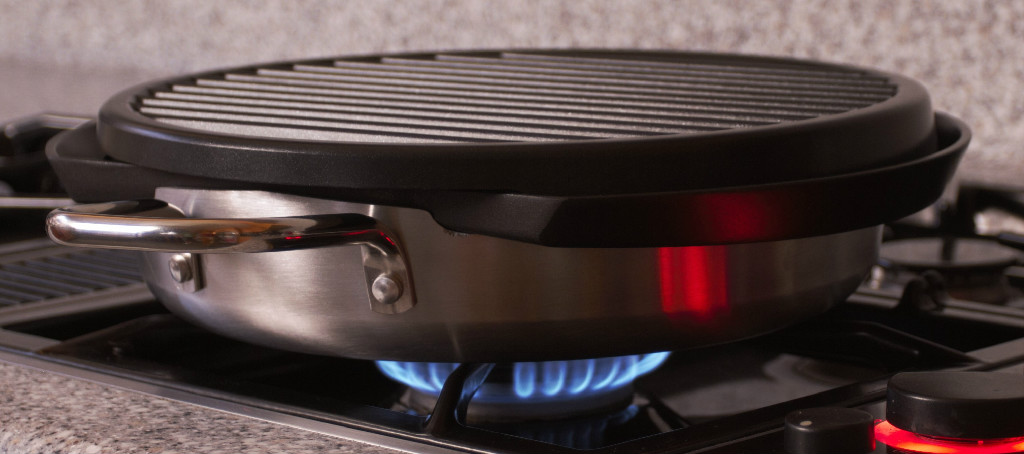 Instructions call for a 10-minute pre-heat at medium to medium-low flame. This is enough heat. Instructions also call for using utensils designed for use on nonstick surfaces – wood and silicone, for example.
We enjoyed the results, somewhat surprised at just how tasty things were. Burgers were juicy and tender. Chicken was perfectly grilled, with grill marks!  And the salmon was tender and delectable, as were the veggies and fruits.  All the grilled foods were quite tasty with no complaints from samplers.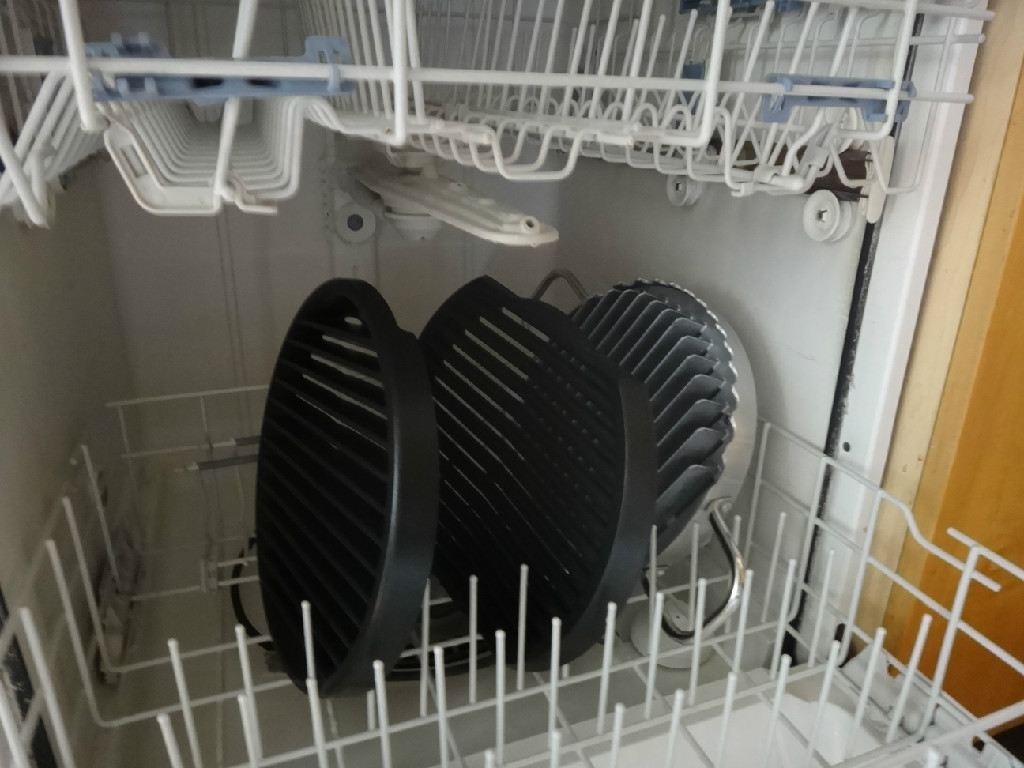 Cleanup was equally uneventful, thankfully.  It was easy as can be. Following instructions, I let the BBQ cool for more than 10 minutes (while we ate) on the turned-off burner, but it can also be removed and placed on any surface that will not be damaged by the hot grill.  Next, into the sink with hot water sprayed to release minor stuck-on remnants, such as from the meat, chicken and fish.  I wiped off the surfaces, though a supplied plastic brush scraper may also be used to get into the grooves. Then the separated pieces went in the dishwasher with the dishes. Everything came out clean.  Minor discoloration on the stainless surfaces occurred, but this is to be expected.  It's an appliance!  Because it's a BBQ, I won't try to get it spotlessly clean. It's not necessary and kind of pointless.
After four uses, the product is doing just fine. I have no idea the duration of the nonstick surfaces, but the product carries a two-year warranty against manufacturing defects. Just be sure to use recommended utensils and NEVER scrape inappropriately. Its non-stick properties, that is, how well it "releases" foods to prevent sticking is very good.  Some non-stick cookware will not brown meats, but this BBQ produces foods with the desired "look" as well as taste.
And now the most important consideration – Where will it live when not in use?  As with any product in the home, this is THE question to be considered before purchase.
Recommended?  An unqualified YES.  When you've a hankerin' for home-cooked BBQ, Stephen's Stovetop BBQ Grill will do a great job . . . indoors.  For now, get this yet-to-be-discovered-by-the-masses product with FREE CONTINENTAL US SHIPPING through the company Website.
Congratulations Stephen Coutts on a well-executed product. I wish you many more successes.