Ditch all your other remotes, which likely will make every member of the family very happy, and get a $399 Logitech Harmony 900 for the easiest ultimate control of all you're A/V equipment.  Consumers can put all their home entertainment equipment (except the display!) out of view behind walls or cabinet doors without losing control, thanks to RF (Radio Frequency) technology.
The simple-to-install IR (Infrared) blaster and mini blasters turn RF signals from the Harmony remote into IR commands your devices already understand. (If you don't need RF, The Harmony One is ideal and priced at a suggested price of $249 but you know the drill; search online and find either product for less).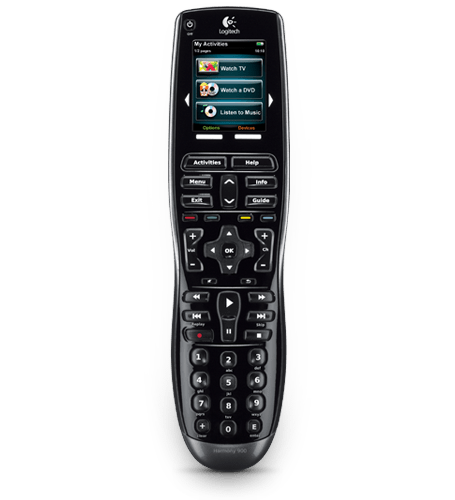 Every operation is intuitive, based upon the "activity" the user wishes to perform.  Watch TV and listen through your receiver or sound bar?  It's one touch to do it all.  Switch to watching a DVD, entailing changing inputs on the display as well as inputs on the sound system?  One touch does it all, once again.  ANY operation, anything you would want to do can be one touch to switching all the components.  Yes, it really is that simple.
What's Hot?
–       Avoid clutter by replacing up to 15 devices with a single, easy-to-use Harmony 900 (or Harmony One)
–       Easy set-up by plugging in the remote to USB on Mac or PC after setting up free account with Logitech
–       All your components' remote codes are sent to the Harmony remote over USB
–       Touch the screen once to set in motion all the powering on or off and all the component switching with
–       Sits in charging cradle, ready for action
–       Color screen sharp and easy to read
–       Buttons for volume, channel, DVD controls, more are below the screen
–       With an online database of more than 5,000 brands and 225,000 devices, chances are, if you own it, the Harmony 900 (and Harmony One) will control it.
What's Not?
–   Well, there is an expense to it, mitigated by the ease of control provided and that users get to ditch all those other remotes for most operations.
The ONLY difference, and it's an important one, between the Harmony 900 and the Harmony One is in the former's RF to IR conversion capability.  IR is a line-of-sight technology, based upon light in the infrared spectrum.  It's there, only our eyes cannot see IR light.  You've probably had the experience of using a standard IR remote control only to find the signal did not get from the device in your hand to the device to be controlled.  Perhaps someone or something was in the way, blocking the line-of-sight between the remote and the equipment.
With RF, it's a totally different ballgame.  Radio signals, not light are sent from the remote to the IR blaster base where they are converted to the IR your devices need to see.  The included IR blaster and mini blasters may be buried behind closed doors, aimed at the area on your equipment behind which is the IR receiver.  Not only may the equipment be behind closed doors, but RF can also go through walls.
Harmony 900 sends its RF signal to control devices up to 100 feet away!  Your experience may be different and likely you will find control signals travel less than 100 feet.  Everyone's environment is different.  Even if just to avoid clutter by being able to put your equipment away behind closed doors and operate only from that main room, the Harmony 900 is a winner.
Another specific usage scenario is that many of us have audio and video equipment in one room that feeds speakers or displays in another.  RF technology in the Harmony 900 allows us to be in another room and still control equipment where it lives, behind the closed doors of cabinetry.
This example is one that is far more common.  As most of us get new TVs, connected to such things as gaming consoles, sound systems, DVD players, so-called set-top boxes such as my TiVo or generic DVRs and other pieces, the clean look provided by having only the display and perhaps speakers exposed would ordinarily present operation and control issues to the user.  I know Mrs. Gadget is looking forward to our getting a piece of cabinetry that can have all these gadgets out of view and tucked away behind the closed doors of a cabinet upon which our 50-inch Pioneer Kuro display will.  We now have "open architecture" wherein my equipment sits on exposed shelves.  Despite our best efforts, those things and the shelves upon which they sit are dust magnets. Placing everything inside a cabinet will eliminate the dust magnet syndrome.  We can still keep the outside of the cabinet easily dusted and not have to move equipment around to dust underneath nor to dust the equipment itself so often. The Harmony 900 is our solution!
Once you're set up, the full-color touch screen displays only the controls you need so that with one touch, you'll be enjoying music, watching a movie or catching up on your favorite recorded shows.
With an online database of more than 5,000 brands and 225,000 devices, chances are, if you own it, the Harmony 900 will control it.
For more details, please read my in-depth article on the Harmony One. Again, the ONLY difference between the 900 and the One is the RF to IR conversion.  As I was satisfied with the Harmony One, I am similarly pleased with the Harmony 900, and I appreciate the additional freedom plus the aesthetic benefits it provides.  These Harmony remotes are singularly excellent, with nothing to compare.  They are both highly recommended!
More information is at www.logitech.com.
Find Harmony 900 at a great price from Amazon.com and Harmony One at Best Buy, Amazon.com and Logitech.com.