It's such a simple idea, really.  A little light on a flexible gooseneck plugged into and powered by the computer's USB port.  That's FlyLight ($19.95) from Kensington Technologies.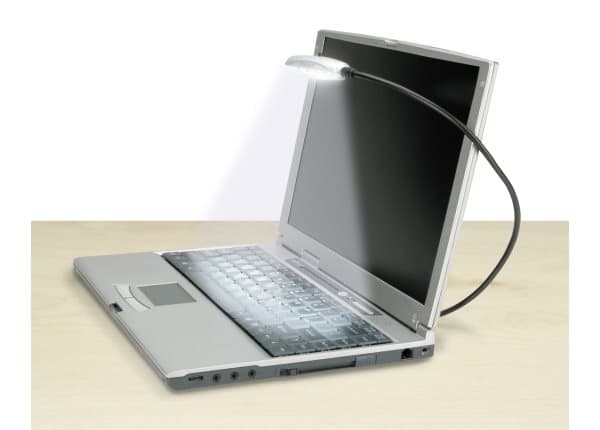 It works perfectly well as advertised.  I carry one with me in my notebook computer bag always.  The drain on the computer's battery is undetectable.  The LED draws so little power.
If you have a notebook computer, it's a good idea to get one of these, or get one as a gift for someone you know who has a notebook computer and travels with it.  FlyLight is backed by a 5-year replacement warranty and free technical support. Don't expect the LED to burn out.  It won't!
Buy the FlyLight online at Amazon.com.
Kensington Technologies is a company that makes other great products I use and recommend.  For example, the outstanding ExpertMouse Pro ($99.99), and the award-winning TurboMouse ($109.99), are the best trackball-type mice in the business for Macs and PCs.  They are what I use daily and what I have for all my desktop computers here at Gadget Central.  You should also see the Digital Photo Album Plus (software for PC only.  Sorry Mac users, unless you use VirtualPC from Connectix). http://www.connectix.com Photo Album Plus is a device that stores and displays your digital photos from your digital camera on its built in LCD screen and looks like a picture frame.  It's sort of like a slide show in a picture frame and it's really cool!  There are two models: with 7.4-inch screen and displaying up to 24 images at 640 x 480 resolution for $199; or the model with 5.7-inch screen displaying up to 12 images at 320 x 240 resolution for $149.