It has been more than two years since I told my story about the outstanding and different Char-Broil Quantum Commercial Grill (click the link and then click at the left on model 580 for the model updated since I received mine) we have here at Gadget Central, so I thought I'd update you on my progress.
First, please become familiar with the product, originally reviewed here.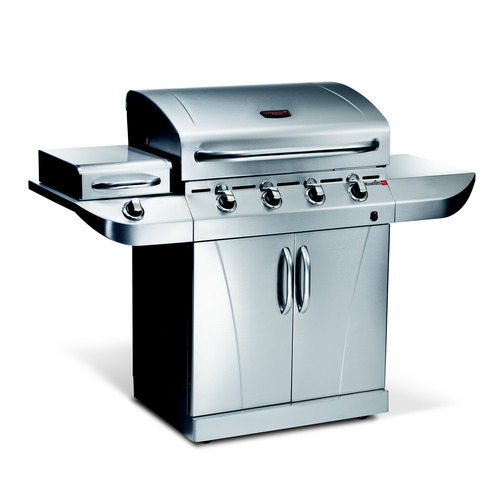 It is always a great grilling season here in SoCal, with just a few inclement weather days, which means it is the customary nearly perfect year-round grilling weather.
I've become accustomed to the faster cooking from the higher-heat infrared waves this grill produces and others do not.  I'm pretty good at not overcooking things, except when it is for those poor souls who visit and insist on well-done meat that ought not to be so done.  As for the entire Gadget Family, we're all rare steak and burger lovers and the grill has never disappointed. Food just tastes better when it comes off the Quantum!
As a matter of fact, I've had more lip smacking good praise of my grilling than ever before since firing up the infrared Quantum.  That's a good sign!  From the adjustability all the way across the grill's surface to its infrared high heat searing to produce THE most succulent grilled foods, nothing can compare and certainly nothing at this price.
Cleanup is ALWAYS easy, easier than on any other grill I have used – when the cooking is done, I turn the heat on high and close the lid for about 15 minutes.  Then, I turn off the gas and give a few quick strokes with a long-handled stainless steel grill brush to knock off the ash residue that is the only thing remaining after cooking.  Then, I let it cool down with the lid open for a time before going back outside to close up for the night and put on the Char-Broil cover I bought online.
The new models have an auto setting for the cleaning cycle.  Just set it to CLEAN and walk away. The timer takes care of everything.
Since the first report I have used the side burner with a fry pan for some delicate fish as well as the supplied Teflon-coated griddle for some outdoor pancakes.  I've also used the side burner to boil water under a silicone veggie steamer.
Even at its regular retail of $500, it's a steal.  At the occasional sale price at Lowe's of $400, and often that includes assembly, it's just unbelievably reasonably priced, even with the approximately $60 added for a natural gas conversion kit, if that's what you need as I do.
I wanted to circle back to let you all know I love this grill more than any other I've seen. It has lived up to and exceeded my expectations.  I just cannot get over the difference between this grill and ALL others I've used or seen at friends' and relatives' with the exception of a Houston friend's custom infrared grill I told you about in my original article.
Let this serve as my planting a seed for a gift idea for everyone in need of the perfect family gift for anyone who's a griller, especially for anyone fortunate as I to live where we get to do that all year long.  And for those of you not so fortunate, make a note to revisit this topic when the weather is more cooperative.
I'm going to close now.  It's the late afternoon and time for me to knock off work for today and, of course, get going on tonight's grilling foray.  It's going to be the best burgers, made with fresh USDA Prime ground sirloin seasoned with Santa Maria BBQ Salt and fresh ground pepper, grilled Portobello mushrooms as the "bumpers" instead of a bun and our favorite thick slices of grilled sweet onion, on high heat with some EVOO drizzled on top and sprinkled with just a little bit of RealSalt. I might throw on some slices of Gruyère we like from Costco for anyone who asks for it. On the side burner will be steamed fresh green beans.  Simple fare, but so yummy!
Happy Grilling!